Perfect as a vacation bonding session or as a thoughtful gift for Father's Day! Inspire your friends and kids to sign up for this specially curated interactive hands-on workshop which allows bakers to experience an insight into healthy baking.Each lesson is meticulously planned to impart knowledge on baking with allergen ingredients, refine baking skills and obtain useful tips pertaining to Delcie's recipes.
Entrust that we place huge emphasis on the quality of our class to ensure participants get to enjoy an enriching baking session over light refreshments from Delcie's, the satisfaction of bringing back their delectable creations!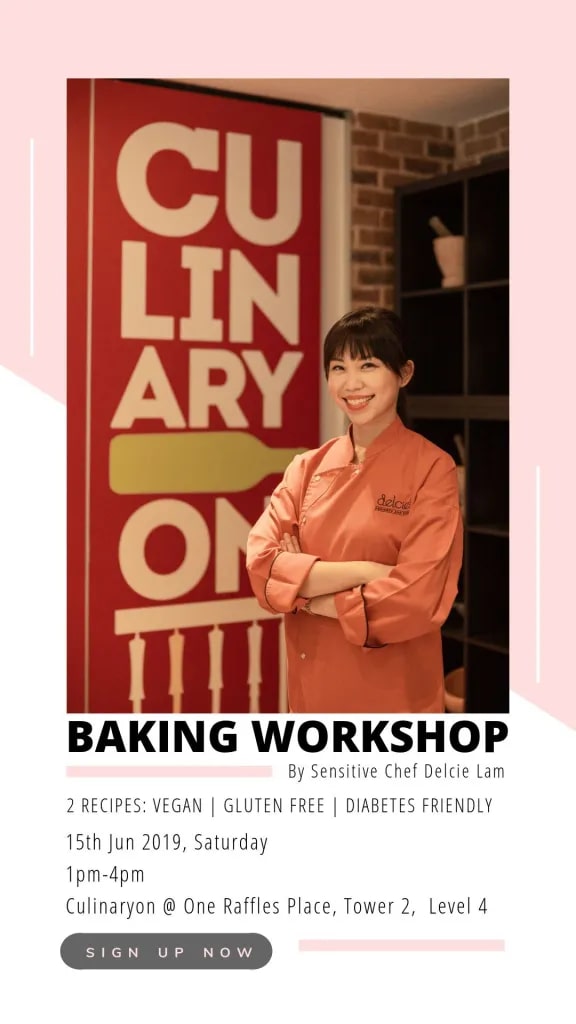 About the Course
By attending this course, you will experience the following:
Delcie's sharing of her baking journey.
Learn about the healthier ingredients she uses in her bakes.
How to bake vegan diabetes friendly chocolate cake without eggs, butter and cane sugar.
How to prepare the vegan Hazelnut Chocolate spread without using milk and cane sugar.
How to layer cake, crumb coat and decorate a cake.
How to make a smooth vegan keto friendly ice-cream without using eggs and dairy.
Enjoy a delectable selection of treats over afternoon tea from Delcie's Desserts
Take home a self-made cake and 2 cups of nutty ice-cream dessert cups.
*Do note that preparation and mixing of ingredients will be done in pairs/ fours while assembly of cake will be individual work.
Class Duration: 3 hours
2 Recipes:
HAZELNUT CHOCOLATE CAKE (Vegan, gluten free and diabetes friendly)
A moist chocolate cake sandwiched with rich hazelnut chocolate spread. Participant will get to learn how to bake a vegan moist refined sugar-free chocolate cake and it's hazelnut chocolate filling. Participant will also learn how to layer cake, crumb coat and decorate this cake.
NUTTY ICE CREAM DESSERT IN CUP (Vegan, gluten free, diabetes friendly and keto friendly)
A back to basic product which Delcie started her baking business with only 1 type of products – desserts in cups. Participant will learn how to make a vegan low carb summertime ice cream that contains so many great ingredients in one blend.
Level: Novice to intermediate (baking enthusiasts with little or no baking experience)
Age: Recommended for ages seven and above
Exclusives: Register as a pair to receive Delcie's DESSERTS and CAKES recipe book (worth $59.90) each