Every mother's day is dearly special to me as this day honour my wonderful late mother who had sacrificed everything including her health for her family. I can never thank her enough.
This is why I choose to pay it forward to all mothers who deserve only the best by baking cakes that are truly healthy and tasty. For this Mother's day, we successfully created an all-new egg-free, dairy-free and diabetic friendly recipe that is awesomely chocolaty named the "Velvety Dark Chocolate Cake".
Bearing in mind my mother's teaching to be charitable with a big heart, our bakery will also be donating $20 with every Mother's day cake purchase to DAPPAS, a charity organization which helps disabled children get back to society through performing arts.
Velvety Dark Chocolate Cake $50
5inch square x 2.5inch height
~ Design may vary. Carnation or daisy may be used.
~ Recommended to remove from fridge (chilling condition) 1 hour before cake cutting for best experience.
You can order this cake now by filling up the order form at the end of this page.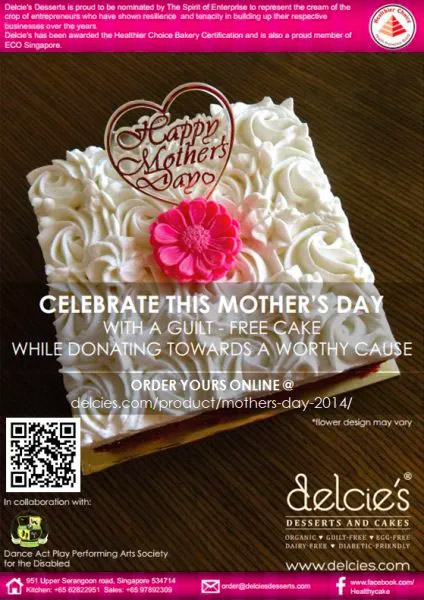 Specially made for your mother who deserves a gulit-free treat from you. Made with our all-new vegan and diabetic friendly chocolate cake recipe, this is a dreamy chocolate cake coated with 74% dark chocolate ganache and topped with mildly sweeten velvety cream frosting. This cake is vegetarian, vegan and diabetic friendly.
Below is the nutritional value of each serving of this Mother's Day cake. Our cake's calories is only 197 per 80g serving size and contains NO trans-fat and NO cholesterol. This healthier choice version (eggless, dairy free and diabetic friendly) has 50% lesser calories compare to a normal chocolate cake that is made with eggs, dairy and sugar. Hooray to all weight watchers!