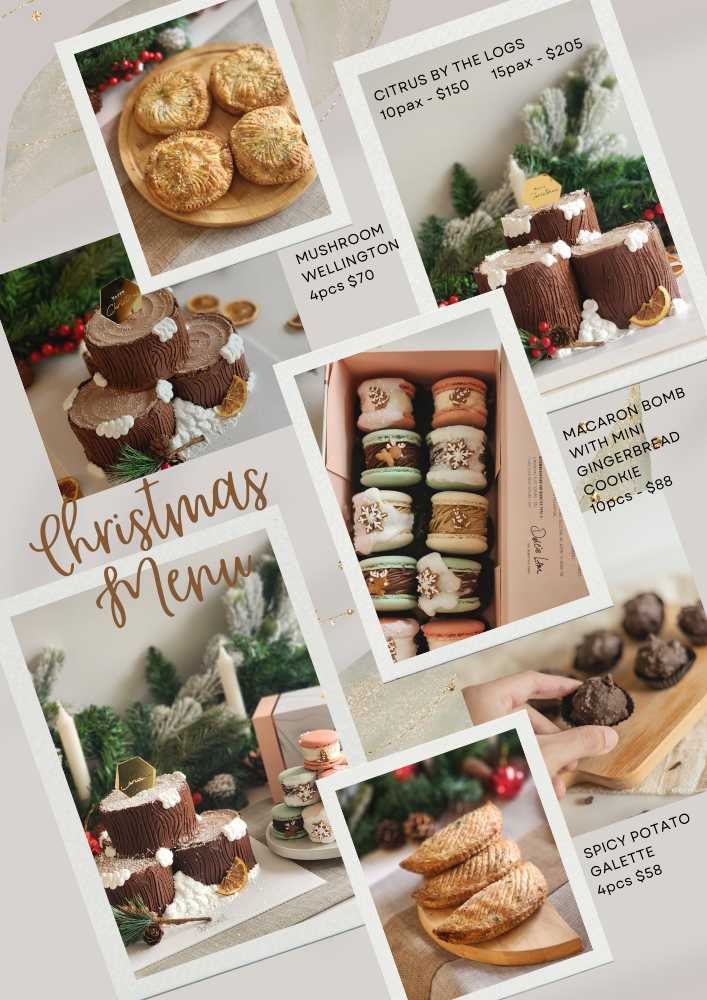 Embracing the spirit of LOVE that unites us all, Delcie's Desserts welcomes you to a heartwarming celebration this Christmas. Our commitment to inclusivity extends beyond mere desserts as we bring forth a festive feast that caters to various dietary needs. As an eggless, dairy-free, cane sugar-free, and diabetic-friendly cake shop, we understand the importance of creating moments for everyone, from the littlest ones to those with specific dietary considerations.
This holiday season, join us on a culinary journey inspired by diverse palettes from around the world.
Our Christmas menu introduces a delectable array of savoury delights alongside our signature log cake.
There's a place for everyone, ensuring your festive celebration is filled with love, warmth, and delightful flavours without leaving anyone out.
Christmas Log Cakes
What's a Christmas without a Christmas Log?
Introducing 'Citrus by the Logs,' a delightful symphony of flavours in our newest creation!
This festive season, savour the harmonious fusion of zesty orange and luxurious chocolate in every slice of this log cake.
Crafted with a vegan recipe and no additional sugar, it's a guilt-free indulgence perfect for those seeking a diabetic-friendly treat.
Experience the joy of the holidays with this exquisitely balanced, moist, and flavorful dessert, designed to make your Christmas celebrations both wholesome and delicious.
Spicy Potato Galette (eggless, dairy-free, contains allium) - Box of 4pcs
Indulge in the exquisite blend of flavours with our Savory Spiced Potato Galette. Delicately encased in flaky, eggless and dairy-free buttery puff pastry, this handcrafted creation features layers of tender potatoes infused with a tantalizing array of aromatic spices. Each bite unveils a harmonious fusion of rich, savoury notes, a true culinary masterpiece to elevate your palate.

Heating instruction: Thaw pastry. Bake thaw pastries in 150°C heated oven temperature for 15mins or until heated through.
---
Mushroom Wellington (eggless, dairy-free, no garlic, no onion) - Box of 4pcs
For mains, customers can consider serving a classic Mushroom Wellington.
Made entirely with vegan butter, this technical dish had Delcie's Desserts chefs folding through layers of dough and vegan butter to create intricate layers of puff pastry.
Mushrooms are then slow-baked to perfection, then rolled in with hand-mashed potatoes and steamed baby spinach.
These are available Pot Pie size create for a small party of 2s.
---
Keto Rocher Gianduja Chocolate Balls (eggless, dairy-free, diabetic friendly, gluten-free)
Indulge in the spirit of the season with our Keto Rochers Gianduja Chocolate Balls – a perfect gift for a low-carb, vegan, and keto-friendly Christmas celebration.
These Italian gianduja-filled chocolate treats are not only delicious but also crafted with healthy ingredients, making them an ideal choice for those with diabetes.
Give the gift of guilt-free indulgence this holiday season. With a delightful and creamy texture, our Keto Rochers are sure to please even the most discerning sweet tooth. Spread the joy of festive flavors and mindful indulgence with these delectable treats, a thoughtful present for your loved ones that adds a touch of sweetness to the holiday celebrations.
GF Christmas Macarons Bomb with Mini Gingerbread Cookie - 10 pcs Gift Set (gluten-free, no egg, no dairy)
Unveiling our Gluten-free, Egg-free, Dairy-free Box of 10 pieces - the Macaron Bomb Collection. Elevate your taste experience with these exquisite macarons, thoughtfully crafted for those with discerning dietary needs. This assortment includes three sumptuous flavors:
Plain Green Peppermint Buttercream: A burst of cool peppermint weaves seamlessly through our signature allergen-free macaron shell, delivering a refreshing sensation with each bite.

Salted Buttercream: Indulge in the velvety richness of buttercream, enhanced by a touch of savory saltiness. These macarons redefine decadence without compromising on your gluten, egg, or dairy-free lifestyle.

Mocha: Immerse yourself in the robust harmony of coffee and chocolate notes, intricately wrapped in a gluten-free, egg-free, and dairy-free macaron.
Perfectly presented in a box of 10 pieces, our Macaron Bomb Collection is a symphony of flavor and inclusivity, ensuring that everyone can savor the joy of these delightful treats.