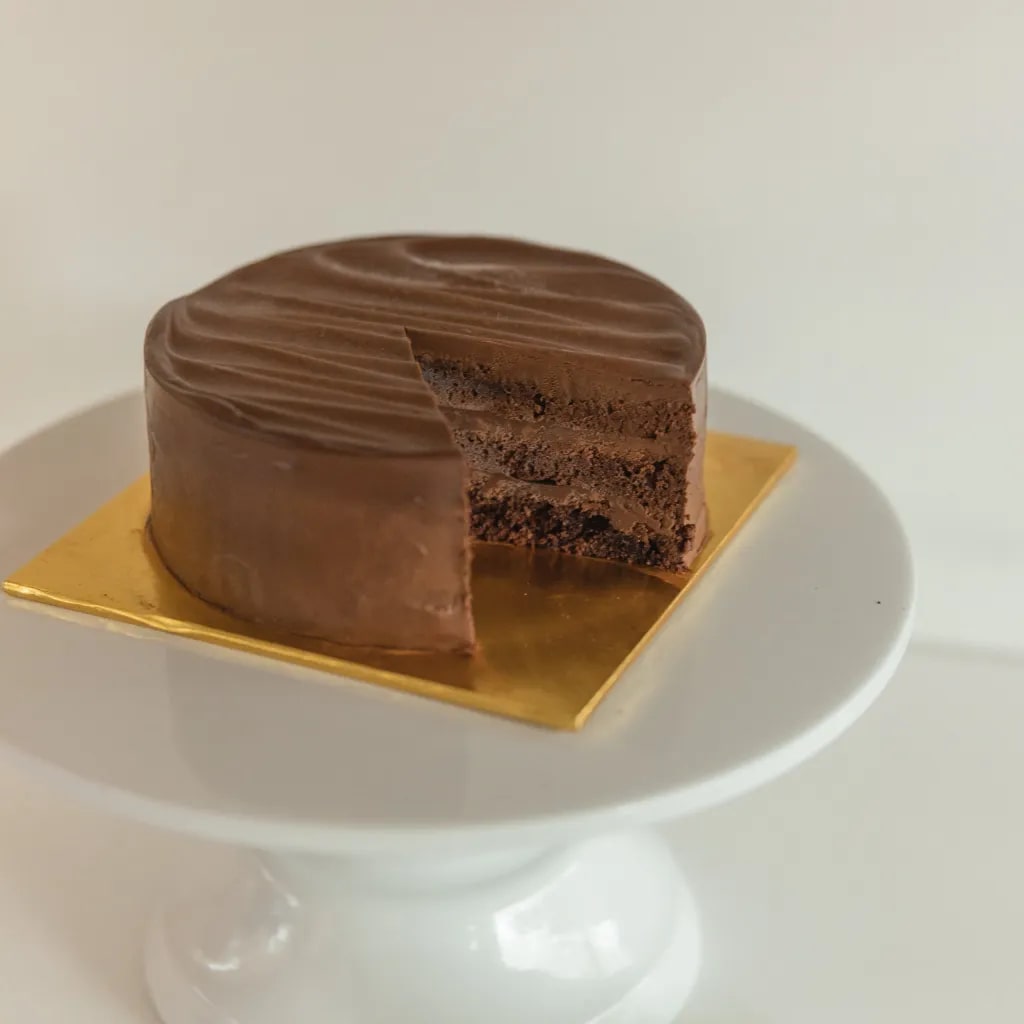 At times, we are just looking a slice of indulgence to satisfy a craving or complete your meal. A slice of gluten free chocolate cake is just right for those times! You can have it after a casual dinner, with evening coffee, and those lazy afternoons when you can relax and enjoy it while watching your favourite movie. You can even warm the cake and with a touch of sweetness will definitely make your day.
Healthy eating habits not only helps keep you physically fit but also allows one to feel energetic throughout the day. Our gluten free, vegan Mud Fudge chocolate cake is a chocolatey treat free of cane sugar and gluten. Perfect for those that would like a healthy dessert. Needless to say, you can always glam up your cake if you want to by adding seasonal fruits, or include each serving with a scoop of organic vegan ice cream. With this cake you have many options to make it the way you like to eat; it is comfortable, unfailing and easy to sort it out in your fashion.
Many of you would ask where do I find this perfect gluten free cake. Delcie's Desserts has that perfect option for you!
If you want to indulge yourself with chocolatey treat, then this gluten free chocolate cake is the one for you! Intense, decadent and amazingly moist, its guaranteed to satisfy any chocolate craving. Gluten free cakes have a tendency to go dry, but these cakes are super moist, especially when eaten warm! All secrets are in the ingredients, and we are experts… you just need to take the leap of faith to try it. You will get a lovely flavour and texture that's so similar to a regular chocolate slice.
Many of you might be on a low carb diet and we believe that it shouldn't stop you from eating your favourite cake. Reducing your carbohydrate intake is a lifestyle change and you can always eat low carb cakes. Eating healthy is good for not just who are on low carb diet but it benefits everyone. Of course, there some limitations while making a low carb cake. Since, wheat flour is not used in it and with cane sugar replaced with stevia, each slice contains minimal calories and carbohydrates.
Believe us, you do not have to bid adieu to cakes when you are on a low carb diet!
----
GF Mud Fudge Ingredients:
Gluten Free flour (rice flour, whole grain brown rice flour, potato starch, sorghum flour, tapioca flour, xanthan gum) , brown rice milk (sunflower seed oil), cocoa powder, apple, agave, canola oil, apple cider vinegar, vanilla bean, tapioca starch, baking soda, baking powder, salt
deco: 74% dark chocolate (soy lecithin), rice milk, coconut oil, vanilla
*Our vegan dark chocolate does not contain dairy or nut ingredients but is manufactured in the same facility that handles chocolate with dairy and nuts.
Diabetic recommended serving size: 80g slice / day