Mango and Passionfruit, a refreshing zingy-zangy tasting cake that gets those taste buds working.
A passionfruit filling that exudes exotic flavours sandwiched between our vegan and sugar-free mango infused vanilla sponges.
Then, iced with mango vanilla chantily vegan cream, proving to the power packed immunity boosting combination.
How do you make such inclusive (vegan, elderly, baby-friendly) cake so moist and delicious? I cannot believe you did not use eggs, dairy and sugar in this cake! Too good.

Mr Gan
This cake is made perfect for baby (12 months and above), young kids and for the elderly at home!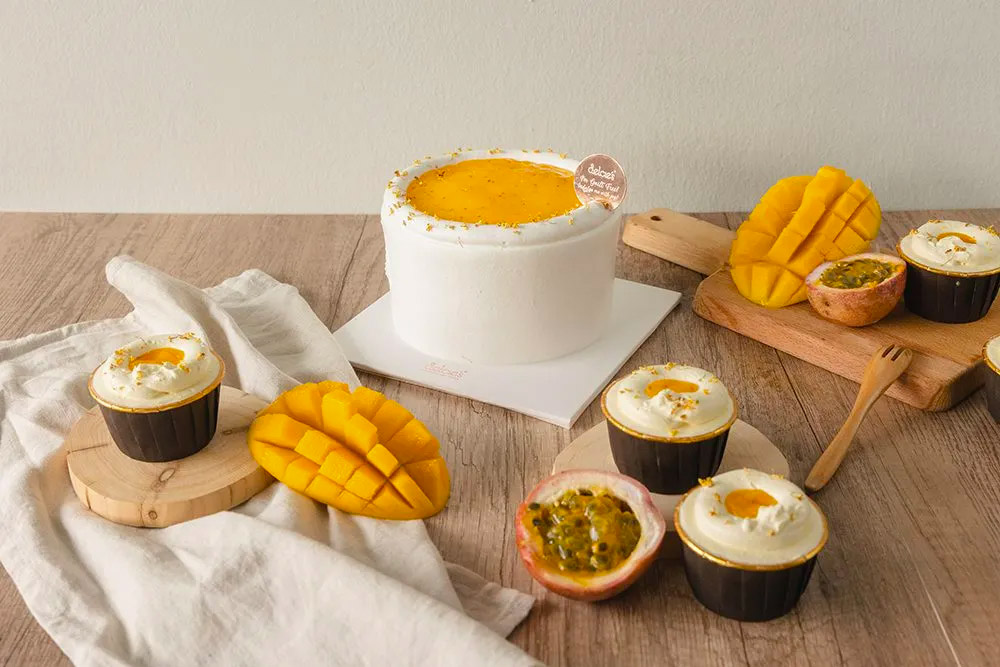 Highly rich in Vitamin A and Vitamin C, and often considered to be the richest plant source of omega-3 fatty acids.
Mango and passionfruit form the perfect vitamin cocktail with a fair amount of protein, vitamin K, calcium, vitamin B6, and zinc.
These are nutrients that power a baby's cell growth, eyesight, brain development, immune function, and healthy bones.
High in:
Manganese supports normal energy yielding metabolism, maintenance of normal bones, formation of connective tissue and protection of cells from oxidative stress.
Copper which contributes to normal functioning of the immune system
A source of:
Vitamin C which contributes to the normal function of your immune system, reduction of tiredness & fatigue and increases Iron absorption
Magnesium which contributes in the reduction of tiredness and fatigue, normal energy yielding metabolism, normal muscle function & the maintenance of normal bones and teeth
Phosphorus which contributes to the normal function of cell membranes
Potassium contributes to normal functioning of the nervous system, muscles and maintenance of normal blood pressure
This delicious tropical cake also provides a good dose of healthy fats and dietary fibre needed to keep those bad cholesterol levels in check and to promote cardiovascular health.
Layers of perfumed fresh ripe mango infused vanilla sponge cake marries well with alternating layers of vegan chantilly cream and soften mango filling, creates a lovely melody of rich tropical flavors.
The cake is finally topped with a zingy passion fruit curd jelly that has been carefully sieved thoroughly with added chai seeds and osmanthus flora sprinkles that creates the perfect glistening fruity topping.
Flavours of paradise!